World first! 
Structurally same to human skin ceramide despite plant origin
 ~ Plant Human Ceramide ~
Ingredient for cosmetic OEM
Waguri (Japanese chestnut) has been loved by Japanese people for over 10,000 years since the Jomon period. We succeeded in commercializing the world's first plant-derived human-type ceramide from chestnut skin, a by-product of this processing. Plant human ceramide is characterized by an ultra long-chain structure, and has a high epidermal barrier function improving effect and moisturizing effect.

          Representative structure of plant human ceramide (Ceramide AP)
---
1. Features of plant human ceramide
"Plant (or botanical) human ceramide" is the world's first ceramide that is derived from plants (chestnut skin) and has a human-type structure (ceramide AP).
・Origin: Skin of Japanese chestnut, Waguri. We have found that chestnuts produce plant human ceramide during the formation of the rind. In order to prevent the seeds (chestnuts) from drying out, it is thought that ceramide is accumulated and moisturized in the same way as the human stratum corneum.
・Human-type ceramide: means the same structure as epidermal ceramides
・Ceramide AP: A human-type ceramide that combines alpha-hydroxy fatty acid and phytosphingosine, and combines the initials A and P.
・Ultra long-chain: The main ceramide component of human skin is ultra long-chain ceramide with a fatty acid chain length of 24 carbon atoms. Plant human ceramides are mainly ultra long-chain ceramides such as C24 and C26. Ultra long-chain ceramide improves the barrier function by building a stable lamellar layer as an intercellular lipid in the stratum corneum. The fatty acid chain length of synthetic ceramide is as short as C18.

                  Positioning of plant human ceramide
---
2. About human-type ceramide
Ceramide is one of the intercellular lipids in the skin and is one of the most important ingredients in moisture retention and barrier function. Ceramide is one of a group of substances called sphingolipids, in which sphingosine (primary amino alcohol) and fatty acid are bonded with an acid-amide. In human skin, more than 300 types of ceramide molecules have been confirmed in detail, and the ceramide ingredient with the same structure is called "human-type ceramide".
 Ceramide is a component that has attracted much attention as an ingredient for cosmetics, but most ceramides used in cosmetics are chemically synthesized products. The name of ceramide is classified according to the difference in structure, and the current cosmetic nomenclature is classified as shown below.
 Non-synthetic human-type ceramide is only derived from microorganisms*, and there has never been a plant-derived human-type ceramide.
* See references below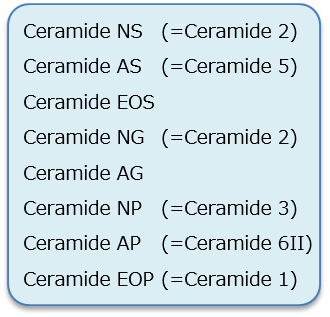 Name of human-type ceramide used in cosmetics (Figure 1)
3. About plant and animal ceramides
Plant-derived ceramide ingredients are put into practical use from many plants such as konjac and rice. These are all components called glucosylceramide (cerebroside), and the structure is very different from ceramide in human skin. They are mainly used as food ingredients. Animal-derived ceramides include those derived from the horse spinal cord and milk, but these are also known to be significantly different in structure from human skin ceramides. Briefly, horse-derived is cerebroside and milk-derived is sphingomyelin. In other words, all natural ceramides so far are non-human types, regardless of plant or animal origin.
 Human-type ceramide takes a free form with no sugar or phosphate bound. Since it is not contained in normal living cells, it is a component that does not exist almost in nature. Human skin, on the other hand, has the ability to constantly produce human ceramides over a long period of evolution to combat dry stress on the ground.
* Cerebroside: A glycosylceramide in which glucose or galactose is bound to ceramide.
* Sphingomyelin: Sphingophospholipid with phosphorylcholine bound to ceramide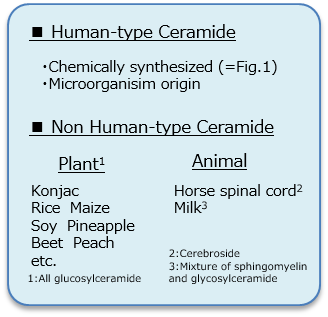 Classification of ceramides
---
4. Structural analysis of plant human ceramide

  Structure of constituent molecules of plant human ceramide

As a result of LC-MS structural analysis, at least 18 kinds of ceramide molecules (differences mainly in fatty acid chain length) were confirmed. It was also found that the ceramide AP type, in which α-hydroxy fatty acid having a hydroxyl group at the C2 position of fatty acid and phytosphingosine bind, is the main structure of plant human ceramide.
Therefore, representative ceramide molecules were classified according to the difference in carbon number (fatty acid chain length). The ultra long-chain ceramides with a total carbon number of 42 combined with lignoceric acid (C24 fatty acid) and phytosphingosine (C18) was most abundant, followed by the largest number of ultra long-chain ceramides with a total carbon number of 44 combined with cerotic acid (C26). Ultra long-chain ceramides with C24, C25, and C26 fatty acids are a feature of plant human ceramide.
---
5. Structural features of plant human ceramide

  Lamella structure of ceramide in the stratum corneum
---
6. High permeability by liposome conversion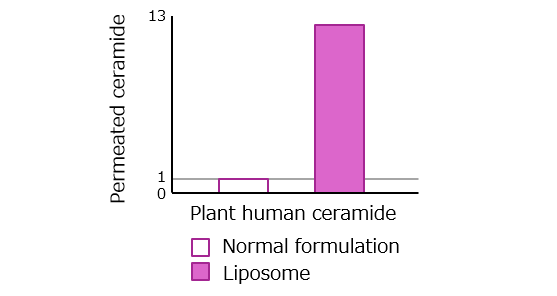 Superior SC permeability of liposomal plant human ceramide
Ultra-long-chain plant human ceramides have the same properties as ceramides, which are naturally found on the skin, but have a problem in the formulation of cosmetics because they are easily crystallized. Therefore, liposomal treatment of plant human ceramide was performed, and the SC permeability was compared by tape stripping method. As a result, we succeeded in increasing the permeability of the human ceramide to 12 times or more by applying liposome treatment, compared to the corneal layer permeation amount of the normal formulation of human ceramide.
---
7. Effectiveness information
・Ultra long-chain structure (fatty acid length 24 or 26): Improve skin barrier function and improves moisture retention.
・Promotion of hyaluronan synthesis gene expression (HAS1): Improve wrinkles and sagging by promoting high molecular hyaluronan synthesis in the dermis.
・Promotion of filaggrin gene expression (FLG): Improving moisturization by promoting filaggrin production, the source of NMF.
・Promotion of transglutaminase gene expression (TGM1): Moisturizing and improving barrier function by forming CE with strong structure *CE: Cornified envelope
・Promotion of β-glucocerebrosidase gene expression (GBA1): Moisturizing and improving barrier function by producing ceramide from glucosylceramide
---
8. Moisturizing effect of plant human ceramide

Cells are cultured for 24 hours. Add ceramide-containing DMEM and incubate for 24 hours. Then RNA extraction and cDNA synthesis. RT-qPCR using cDNA. The addition concentration to dermal fibroblasts and human epidermal keratinocytes is 0.5 ng/mL, and the addition concentration to 3D skin model cells is 0.5 mg/mL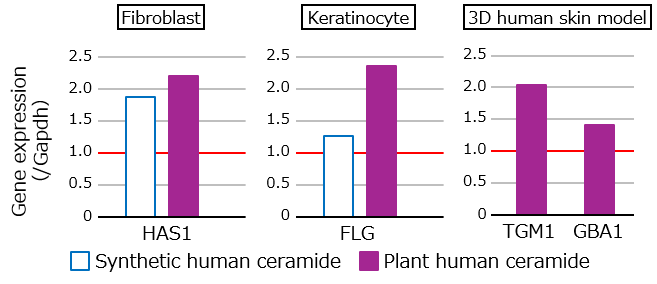 Moisturizing gene expression promoting effect by plant human ceramide

HAS1 (Hyaluronan synthase-1):
An enzyme responsible for the synthesis of hyaluronan in the dermis. It is expressed in dermal fibroblasts and produces high molecular weight hyaluronan. HAS1 produces higher molecular weight hyaluronan than HAS2. Hyaluronan is involved in the retention of moisture in the skin and gives it firmness and prevents wrinkles.
FLG (Filaggrin):
A protein that is the source of natural moisturizing factor (NMF), a moisturizing component of humans. It breaks down with the metabolism of the skin to become amino acids and retains moisture of the stratum corneum as NMF. If it decreases, the barrier function and moisture retention ability of the skin will decrease and cause dryness.
TGM1 (Transglutaminase):
An enzyme that promotes the formation and maturation of the cornified envelope (CE) related to the barrier function of the skin. Increases activity in humid environments and produces mature CE. CE maturation leads to the maintenance and improvement of skin barrier function and moisture retention.
GBA1 (β-Glucocerebrosidase):
An enzyme that produces ceramide (ceramide EOP etc.) from glucosylceramide, a precursor of ceramide. It is produced by epidermal cells and has a barrier function to protect against external stimuli. If ceramide is decreased due to aging etc., it may cause dryness.

plant human ceramide promoted the expression of hyaluronan synthase gene (HAS1) in fibroblasts. As a result, dermal hyaluronan is increased, moisture in the dermis is retained, and it can be expected to give the skin firmness and suppress wrinkle formation.
 In addition, plant human ceramide promoted the expression of the following genes: filaggrin gene related to NMF production in human epidermal keratinocytes, TGM gene related to barrier function enhancement by binding of stratum corneum protein in 3D skin model cell, and GBA gene related to moisturizing and barrier function enhancement by ceramide production. Moreover, the filaggrin gene showed a stronger expression promoting effect than synthetic human ceramide.
---
9. Plant human ceramide -Summary-
In plant ceramide metabolism, there are two main systems: a system that produces a glucosylceramide having a plant-specific structure, and a system that produces a high-molecular phosphate-binding ceramide having a human-type ceramide skeleton. Although the former glucosylceramide has a structure that is significantly different from that of skin ceramide, it has been put into practical use by many plants and is also used in Foods with Function Claims as so-called "plant ceramide". On the other hand, we discovered that the latter phosphate-binding ceramide was converted to human-type ceramide by breaking the phosphate bond under the natural life phenomenon of programmed cell death, and it was accumulated in chestnut skin. It is suggested that ceramide production, which occurs constantly in human skin metabolism, also occurs in plant skin formation.
Plant human ceramide takes the form of ultra long-chain, which is the same structure as epidermal ceramide, and improves the skin's natural moisture retention function. It also improves the skin's own moisturizing ability by promoting the expression of skin moisturizing-related genes.
---
10. World's first plant ingredient invented by cosmetic OEM company
Plants and people are very different biologically, and the biocompatibility of plant components is not necessarily high. We have been actively researching how to use plants uniquely and improve the bioavailability of plant components. "Plant human ceramide" is one of the achievements.
---
11. Reference
・Fukumitsu et al. Japanese Society for Ceramides (2008)
・Yunoki. Unexamined patent application 2012-41518 (2012)
 Sphingolipids and acquisition method of sphingolipids.
・Yunoki. Fragrance Journal 41 44 (2013)
・Yunoki. Monthly BIOINDUSTRY Vol.5 pp54-62 (2017)
 Development of plant human-type ceramide from the skin of Japanese chestnut
---
12. Product information

Raw material origin: chestnut skin mainly from Ibaraki
INCI: CERAMIDE AP (or 6II), PHYTOSTEROLS, GLYCOSPHINGOLIPIDS
Chinese name:神经酰胺6II, 植物甾醇类, 糖鞘脂类

・24-hour occlusion patch test: No irritation
・Eye irritation test using SIRC cells: No irritation
・Phototoxicity test by ROS assay: Negative
---
---
In principle, the copyright of this document belongs to Saticine Medical Co., Ltd., except where the source is clearly stated. Copying, duplicating, quoting, reprinting, translating, or lending all or part of this document without permission is prohibited, regardless of purpose or method. This document is an ingredient technical document, and the expression introduced in this document does not guarantee that it does not violate various laws.